Fully Powered Electric Stacker 2640lbs Cap. Fixed Legs. 118" Lifting
 THE BEST CHOICE FOR NARROW SITE 
650-watt drive motor, 2,200-watt lift motor.
Curtis (US Brand) Controller.

Fixed forks suits for EU type pallet.
Both sides of button for lifting and lowering operation.
Red dot and IF design award winner
*FULLY POWERED STACKER 
MODEL NO.
LOAD CAPACITY 
BATTERY CAPACITY
LIFTING HEIGHT
HEIGHT        LOWERED 
WHEEL           DIAMETER 
WT (LBS) 
PRICE EACH
A-3024
2,200 lbs
24V/105AH
98''
3.5''
7.7" 

1,400

$4,890
A-3025
2,200 lbs
24V/105AH
118''
3.5''
7.7" 

1,474

$

4,992

A-3026
2,640 lbs
24V/105AH
98''
3.5''
7.7" 
1,470
$5,220
A-3027
2,640 lbs
24V/105AH
118''
3.5''
7.7" 
1,540
$5,370
*SHIPS ASSEMBLED VIA MOTOR FREIGHT
*REPLACEMENT PARTS
MODEL NO.
BATTERY TYPE
BATTERY CAPACITY
WT. (LBS)
DIMENSIONS
PRICE EACH
2 PCS PRICE
S-1005
Gel Battery
24V/105AH
115
10.2x6.6x8.5"
$600
$1,150
DIMENSIONS:
Overall Length:68.8"
Overall Width: 31.5''
Recommended Aisle Width:87.3"
Turning Radius: 53.7"
Mast Height Lowered:82.2''
Mast Height Raised: 140.1''
Load Center: 23.6" 
FORKS:
Fork height, Lowered: 3.5''
Thickness: 2.3''
Width: 6.7''
Length: 45''
FEATURES: 
Smooth rolling polyurethane wheels.180° steering arc.
110V Built-in Charger.
6 hours service per charge: two 12-volt, 105 Ah rechargeable GEL batteries.
SPEED:
Travel speed(laden/unladen) : 2.8/3.1mph
Lifting speed(laden/unladen) : 3.5/5.5inch/s
Lowering speed(laden/unladen) : 4.7/3.9inch/s
SPECIFICATIONS:
Not explosion proof.
This stacker is designed to be used on flat ground, avoiding uneven grounds with potholes or large ramp.
Temperature range of working environment below 50˚F~104˚F.
Fully charge battery before use to avoid damaging cells.
Charger plugs into standard 110V-120V outlets.
Charge the truck once a month even it's not in use.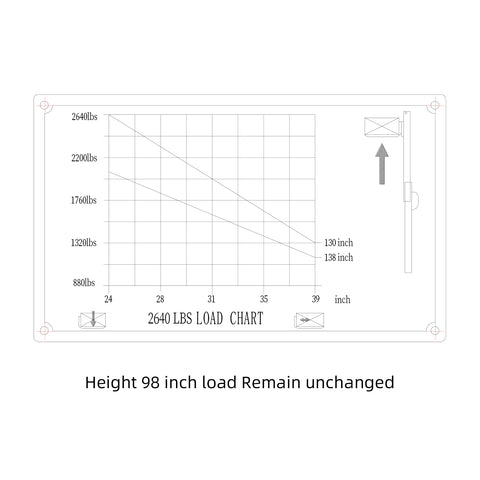 Click Here :A-3027  Detail Page
Click Here :Assemble the welded fork.

1 YEAR
Parts covered. 
Excludes: Wheels, axles & bushings
1 YEAR PLUS: 
Contact Apollolift for assistance locating repair facilities.
Customer responsible for all charges.